LA:Pagina Prima
From NovaRoma
(Difference between revisions)
 

(31 intermediate revisions by 3 users not shown)
Line 1:
Line 1:
−

__NOTOC__ __NOEDITSECTION__

 
−

{|cellpadding="0" border="0" width="100%" align="center"

 
−

|-

 
−

|width="100%" colspan="2"|

 
−

 
 

{{MainPageBanner|subtitle=Restituendae classicae Rómánae religióní, cultúrae atque virtútibus}}

 

{{MainPageBanner|subtitle=Restituendae classicae Rómánae religióní, cultúrae atque virtútibus}}

 
+
 
+
 
+
 
 
−

{{LanguageBar|Main Page}}

+

--

−

|-

+
−

|width="100%" colspan="2" align="center"|Hodié {{{{LOCALMONTHABBREV}} {{LOCALDAY}}}} {{{{CURRENTYEAR}} }} est. "'''{{TodayLetter}}'''"

+
−

|-

+
−

|width="50%" valign="top"|

+
−

{{PortalBox | title=RÉS PUBLICA | content=

+
−

[[LA:Nova Roma|Nova Róma]] est societás dicáta studió ac restitútióní antíquae cultúrae Rómánae. Á fábulósá enim orígine 753 ACN úsque ad 330 AD, cum sédés Imperí et auctóritátis esse désierit, Róma régula fuit fundámentaque posuit modernae nostrae Occidentális cívílizátiónis. '''[[LA:Res publica Novae Romae|Plús cognósce...]]'''

+
 
 
−

'''Vincula commoda:''' [[LA:Declaration (Nova Roma)|Déclárátió]] - [[LA:FAQ|Dubia tríta]] - [[LA:Category:Tabularium (Nova Roma)|Tabulárium]] - [[LA:Aerarium Saturni (Nova Roma)|Aerárium Sátúrní]] - [[{{CURRENTYEAR}}|Magistrátús]] - [[LA:Category:Senators (Nova Roma)|Senátórés]] - [[LA:Provincia (Nova Roma)|Próvinciae]] - [[LA:Annals (Nova Roma) | Annálés Novae Rómae]] - [[LA:Ager Publicus (Nova Roma)|Ager Públicus]] - [http://www.novaroma.org/civitas/album Album Civium] - [[LA:Fasti MMDCCLX#{{#switch: {{#time:n}}| 1=IANVARIVS| 2=FEBRVARIVS| 3=MARTIVS| 4=APRILVS| 5=MAIVS| 6=IVNIVS| 7=QVINTILIS| 8=SEXTILIS| 9=SEPTEMBER| 10=OCTOBER| 11=NOVEMBER| 12=DECEMBER}}|Fastí MMDCCLX]]}}  

+

'''Vincula commoda:''' [[LA:Declaration (Nova Roma)|Déclárátió]] - [[LA:FAQ|Dubia tríta]] - [[LA:Category:Tabularium (Nova Roma)|Tabulárium]] - [[LA:Aerarium Saturni (Nova Roma)|Aerárium Sátúrní]] - [[{{CURRENTYEAR}}|Magistrátús]] - [[LA:Category:Senators (Nova Roma)|Senátórés]] - [[LA:Provincia (Nova Roma)|Próvinciae]] - [[LA:Annals (Nova Roma) | Annálés Novae Rómae]] - [[Ager Publicus (Nova Roma)|Ager Públicus]] - [http://www.novaroma.org/civitas/album Album Civium] - {{|}} }}  

 
 
−

{{PortalBox | title=CULTÚS DEÓRUM | content=

+

{{PortalBox | title=CULTÚS DEÓRUM | content=|LA:Cultus Deorum Romanorum

−

Aliquandó "paganismus Rómánus" vocátur, cultús deórum moderní sunt cónátús [[LA:Reconstructionism|restituendórum]] sacrórum antíquórum Rómánórum quam subtílissimé, paulum cúrís modernís permittentés.  '''[[LA:Cultus Deorum Romanorum|Plús cognósce...]]'''

+
 
 
−

'''Vincula commoda:''' [[LA:Category:Religio Romana (Nova Roma)|Cultús deórum]] - [[LA:Priests (Nova Roma)|Sacerdótés sacerdótiaque]] - [[LA:Foreign priesthoods (Nova Roma)|Sacerdótia peregrína in Nová Rómá]] - [[LA:Category:Ritus|Sacra Ritúsque]] - [[LA:Roman Calendar|Fastí Rómání]] - [[LA:Comitia Curiata (Nova Roma)|Comitia Cúriáta]]}}

+

----

 
 
−

{{PortalBox | title=VÍTA CÍVICA| content=

+

''' [[LA:(Nova Roma)|]]

−

Multís modís in vítá cívílí Novae Rómae interesse potes.  Fac quod studés et quod convenit.

+
−

'''[[LA:Civic life (Nova Roma)|Plús cognósce...]]'''

+
 
 
−

'''Vincula commoda:''' [[LA:Mailing lists (Nova Roma)| Forum électronicum]] - [[LA:Sodalitas|Sodálitátés]] - [[LA:Reenactments|Recónstructiónés mílitárés]] - [[LA:Academia Thules|Académía Thúlés]] - [[LA:Macellum (Nova Roma)|Macellum]] - [[LA:Category:Events for Romans|Agenda Rómánís]]

+

| | |LA:(Nova Roma)}}

−

}}

+
 
 
−

{{PortalBox | title=VIA RÓMÁNA| content=

+
−

Via Rómána omnium partium cultúrae Rómánae stúdium atque úsus est: linguae Latínae, artium Rómánárum (necnón recónstructiónum mílitárium), fábulárum scaenicárum Rómánárum, historiae Rómánae, et multárum aliárum rérum variárum.  Móre Rómánó etiam cívés Noví Rómání nómina Rómána suscipiunt quae adhibentur nostrá in cívitáte.

+
 
 
−

'''Vincula commoda:''' [[LA:Category:Reading list|Librórum indicés]] - [[LA:Via Romana|Via Rómána]] - [[LA:Roman Virtues|Virtútés Rómánae]] - [[LA:Lingua Latina|Lingua Latína]] - [[LA:Category:Bibliotheca|Litterae Artésque]] - [[LA:Category:Roman Clothing and Equipment|Vestés Ínstrúmentaque Rómána]]

+

'''Vincula commoda:''' [[LA:| ]] - [[LA:|]] - [[LA:|]] - [[LA:|]] - [[LA:|]] - [[LA:Category:|]] }}

−

}}

+
 
 
−

|valign="top"|

+

{{PortalBox | title=| content={{|LA:}}

−

{{PortalBox | title=NUNTIÍ | content=

+
−

{{ #switch:{{ #expr: {{ #switch:"{{marketday}}"|"A"=0|"B"=1|"C"=2|"D"=3|"E"=4|"F"=5|"G"=6|"H"=7|X}} - {{ #expr: {{ #time: z }} mod 8 }} }}| 0=Hodie sunt [[LA:Market Day (Nova Roma)|núndinae]]!| 1=[[LA:Market Day (Nova Roma)|Núndinae]] appropinquant!| }}<hr/>

+
−

{{Nuntii Breves}}

+
−

<div align="center">'''[[LA:Current events|Omnés nuntií...]]'''</div>

+
−

}}

+
−

{{PortalBox | title=FASTÍ | content=

+
−

[[LA:Market Day (Nova Roma)|Colloquia núndinálés]] in [[LA:IRC (Nova Roma)|IRC]] accidunt diébus "'''{{marketday}}'''". Hodie est "'''{{#switch: {{ #expr: {{ #time: z }} mod 8 }} | 0=A | 1=B | 2=C | 3=D | 4=E | 5=F | 6=G | 7=H }}'''". ''' {{ #switch:{{ #expr: {{ #switch:"{{marketday}}"|"A"=0|"B"=1|"C"=2|"D"=3|"E"=4|"F"=5|"G"=6|"H"=7|X}} - {{ #expr: {{ #time: z }} mod 8 }} }}| 0=Hodie sunt [[LA:Market Day (Nova Roma)|núndinae]]!| 1=[[LA:Market Day (Nova Roma)|Núndinae]] appropinquant!| }} '''<hr/>

+
−

<div align="center">'''[[LA:Fasti MMDCCLX#{{#switch: {{#time:n}}| 1=IANVARIVS| 2=FEBRVARIVS| 3=MARTIVS| 4=APRILVS| 5=MAIVS| 6=IVNIVS| 7=QVINTILIS| 8=SEXTILIS| 9=SEPTEMBER| 10=OCTOBER| 11=NOVEMBER| 12=DECEMBER}}|Fastí interactíví]]'''</div>

+
−

}}

+
 
 
−

{{PortalBox | title=PHOTOGRAPHUM COTTÍDIÁNUM | content=

+
−

{{PhotographumCottidianum}}

+

 

−

}}

+

}}

 
 
−

{{PortalBox | title=POSTULÁTIÓ CÍVITÁTIS | content=

+
 
+

 

 
+
 
+
 
+

 

 
+
 
+

 

 
+
 
+

{{PortalBox | title=POSTULÁTIÓ CÍVITÁTIS | content=

 

* [[LA:FAQ|Frequenter Allátae Quaestiónés]]  

 

* [[LA:FAQ|Frequenter Allátae Quaestiónés]]  

−

* [http://groups.yahoo.com/group/Nova-Roma/ Forum électronicum] intrá  

+

* [http://groups.yahoo.com/group/Nova-Roma/ Forum électronicum

 
+

] intrá  

 

* [[LA:Choosing a Roman name|Quómodó sit nómen éligendum]]

 

* [[LA:Choosing a Roman name|Quómodó sit nómen éligendum]]

−

* '''[http://www.novaroma.org/bin/apply Cívitátem Novae Rómae postulá]'''

+

* '''[http://www.novaroma.org/bin/applyCívitátem Novae Rómae postulá]'''

 

* Cívibus novís: [[LA:New citizen first steps|''Quid nunc faciam?'']]  

 

* Cívibus novís: [[LA:New citizen first steps|''Quid nunc faciam?'']]  

−

}}

+

}}-

−

|-

+
−

|width="100%" colspan="2"|{{PortalBox | title=Página Électronica Novae Rómae | content=

+

=""{{PortalBox | title=Página Électronica Novae Rómae | content=

 

'''Quirítés! Hanc páginam émendáre potestis!'''

 

'''Quirítés! Hanc páginam émendáre potestis!'''

 
 
−

'''Tibíne est opus persónae électronicae?''' Aliquis cívis [[LA:NovaRoma:create a wiki account|persónam 'wiki' facere]] potest. '''Suntne tibí difficultátés?''' Forum électronicum [http://groups.yahoo.com/group/NRWiki NRWiki @ yahoogroups.com] intrá et epistulum scríbe. Vidé [[LA:NovaRoma:Community Portal|Portam Cívitátis]] ut cónsilia legás. [[LA:NovaRoma:Admin Requests|Scríbe cúrátóribus]] sí quid vís.

+

'''Tibíne est opus persónae électronicae?''' Aliquis cívis [[LA:NovaRoma:create a wiki account|persónam 'wiki' facere]] potest. '''Suntne tibí difficultátés?''' Forum électronicum [http://groups.yahoo.com/group/NRWiki NRWiki @ yahoogroups.com] intrá et epistulum scríbe. Vidé [[NovaRoma:|Portam Cívitátis]] ut cónsilia legás. [[LA:NovaRoma:Admin Requests|Scríbe cúrátóribus]] sí quid vís.

 

}}

 

}}

−

|}

+
 
 
 
 
−

[[Category:Master Index]]

+

[[Category:]]

 
+
---
Latest revision as of 19:57, 19 January 2013
NOVA ROMA
Restituendae classicae Rómánae religióní, cultúrae atque virtútibus
 Home| Latíné | Deutsch | Esperanto | Español | Français | Italiano | Magyar | Português | Română | Русский | English
Hodié a.d. IX Kal. Nov. ‡ II post M. Pompeium Sex. Lucilium cos. ‡ MMDCCLXX a.u.c. est. "A"
PHOTOGRAPHUS QUOTIDIÁNUS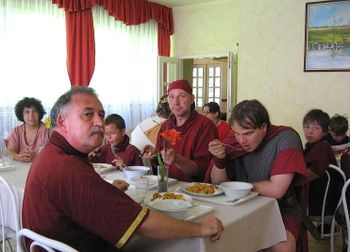 A tradition during the
ludi Apollinares
was to have lunch or dinner with open doors. Open door lunch of Nova Roman citizens for the
Ludi Apollinares
during the IV Nova Roman Reenactment Camp in
Pannonia
(Hungary), in 2761. From left to right Livia Plauta
tribuna plebis
, M. Metellus, Sp. Porcius and
Cn. Lentulus
as
centurio
around the table.
POSTULÁTIÓ CÍVITÁTIS
Ad magistratum nuntium mittere
Forum électronicum principále intrá : "Forum Hospitum".
Página Électronica Novae Rómae