IT:Pagina principale
From NovaRoma
(Difference between revisions)
(updates)

 

Line 6:
Line 6:
 

----

 

----

 
 
−

'''Link rapidi:''' [[IT:Declaration (Nova Roma)|Dichiarazione]] - [[IT:FAQ|FAQ]] - [[:Category:Legal system (Nova Roma)|Le nostre leggi]] - [[Aerarium Saturni (Nova Roma)|Aerarium Saturni]] - [[{{CURRENTYEAR}}|Magistrati]] - [[:Category:Senators (Nova Roma)|Senatori]] - [[Provincia (Nova Roma)|Le province]] - [[Annals (Nova Roma)|Annali di Nova Roma]] - <!-- ''[[Ager Publicus (Nova Roma)|Ager Publicus]]'' - -->[http://www.novaroma.org/civitas/album Album Civium] - ''{{Calendar|Calendario}}''}}

+

'''Link rapidi:''' [[IT:Declaration (Nova Roma)|Dichiarazione]] - [[IT:FAQ|FAQ]] - [[:Category:Legal system (Nova Roma)|Le nostre leggi]] - [[Aerarium Saturni (Nova Roma)|Aerarium Saturni]] - [[{{CURRENTYEAR}}|Magistrati]] - [[:Category:Senators (Nova Roma)|Senatori]] - [[Provincia (Nova Roma)|Le province]] - [[Annals (Nova Roma)|Annali di Nova Roma]] - <!-- ''[[Ager Publicus (Nova Roma)|Ager Publicus]]'' - -->[http://www.novaroma.org/civitas/album Album Civium] - ''{{Calendar|Calendario}}''}}

 
 
 

{{PortalBox | title=ITALIA | content=  

 

{{PortalBox | title=ITALIA | content=  

Line 28:
Line 28:
 

----

 

----

 
 
−

'''Link rapidi:''' '''[[:Category:Bibliotheca|Biblioteca]]''' - [[:Category:Reading list|Reading list]]s - [[Roman Virtues|Virtù romane]] - [[Lingua Latina|La lingua latina]] - [[:Category:Roman Clothing and Equipment|Vêtements et équipements romains]]}}

+

'''Link rapidi:''' '''[[:Category:Bibliotheca|Biblioteca]]''' - [[:Category:Reading list|Reading list]]s - [[Roman Virtues|Virtù romane]] - [[Lingua Latina|La lingua latina]] - [[:Category:Roman Clothing and Equipment|]]}}

 
 
 

</div>

 

</div>
---
Latest revision as of 13:13, 27 September 2012
NOVA ROMA
Dedicato al ripristino della religione, della cultura e delle virtù romane classiche
 Home| Latíné | Deutsch | Esperanto | Español | Français | Italiano | Magyar | Português | Română | Русский | English
Hodié a.d. XI Kal. Feb. ‡ Template:2019 est. "E"
LA FOTO DEL GIORNO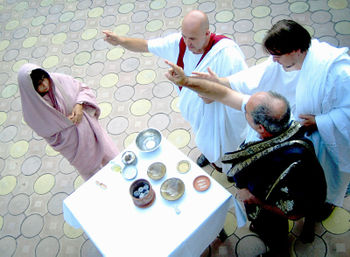 Livia Plauta
tribuna plebis,
T. Iulius
consul,
Cn. Lentulus
quaestor and
M. Moravius
consul, flamen, pontifex and augur sacrifice to Hercules for the 10th Anniversary of Nova Roma in 2008, during the
VI Conventus Novae Romae
.
Le Site Web de Nova Roma
Cittadini novi romani! - Potete modificare questo sito!
Contatta
il
WikiMagisters
per ulteriori richieste.