IT:Pagina principale
From NovaRoma
(Difference between revisions)
m

(updates)

 

(11 intermediate revisions by 2 users not shown)
Line 6:
Line 6:
 

----

 

----

 
 
−

'''Link rapidi:''' [[IT:Declaration (Nova Roma)|Dichiarazione]] - [[IT:FAQ|FAQ]] - [[:Category:Tabularium (Nova Roma)|Le nostre leggi]] - [[Aerarium Saturni (Nova Roma)|Aerarium Saturni]] - [[{{CURRENTYEAR}}|Magistrati]] - [[:Category:Senators (Nova Roma)|Senatori]] - [[Provincia (Nova Roma)|Le province]] - [[Annals (Nova Roma)|Annali di Nova Roma]] - <!-- ''[[Ager Publicus (Nova Roma)|Ager Publicus]]'' - -->[http://www.novaroma.org/civitas/album Album Civium] - ''{{Calendar|Calendario}}''}}

+

'''Link rapidi:''' [[IT:Declaration (Nova Roma)|Dichiarazione]] - [[IT:FAQ|FAQ]] - [[:Category:(Nova Roma)|Le nostre leggi]] - [[Aerarium Saturni (Nova Roma)|Aerarium Saturni]] - [[{{CURRENTYEAR}}|Magistrati]] - [[:Category:Senators (Nova Roma)|Senatori]] - [[Provincia (Nova Roma)|Le province]] - [[Annals (Nova Roma)|Annali di Nova Roma]] - <!-- ''[[Ager Publicus (Nova Roma)|Ager Publicus]]'' - -->[http://www.novaroma.org/civitas/album Album Civium] - ''{{Calendar|Calendario}}

 
+

 

 
+
 
+
 
+

''}}

 
 
 

{{PortalBox | title=CULTUS DEORUM | content={{Include summary|IT:Cultus deorum Romanorum}}

 

{{PortalBox | title=CULTUS DEORUM | content={{Include summary|IT:Cultus deorum Romanorum}}

Line 18:
Line 22:
 

----

 

----

 
 
−

'''Link rapidi:''' [[Mailing lists (Nova Roma)|Il nostro forum]] - [[Sodalitas|Gruppi speciali]] - [[IT:Rievocazione storica|Ricostruzioni militari]] - ''[[Academia Thules]]'' - [[IT:Macellum (Nova Roma)|Il mercato]] - [[:Category:Events for Romans|Eventi per romani]]}}

+

'''Link rapidi:''' [[Mailing lists (Nova Roma)|Il nostro forum]] - [[Sodalitas|Gruppi speciali]] - [[IT:Rievocazione storica|Ricostruzioni militari]] - ''[[Academia Thules]]'' - [[IT:Macellum (Nova Roma)|Il mercato]] - [[:Category:Events for Romans|Eventi per romani]]}}

 
 
−

{{PortalBox | title=VIA ROMANA| content={{Include summary|IT:Via Romana}}

+

{{PortalBox | title=| content={{Include summary|IT:Via Romana}}

 
 
 

----

 

----

 
 
−

'''Link rapidi:''' '''[[:Category:Bibliotheca|Biblioteca]]''' - [[:Category:Reading list|Reading list]]s - [[Roman Virtues|Virtù romane]] - [[Lingua Latina|La lingua latina]] - [[:Category:Roman Clothing and Equipment|Vêtements et équipements romains]]}}

+

'''Link rapidi:''' '''[[:Category:Bibliotheca|Biblioteca]]''' - [[:Category:Reading list|Reading list]]s - [[Roman Virtues|Virtù romane]] - [[Lingua Latina|La lingua latina]] - [[:Category:Roman Clothing and Equipment|]]}}

 
 
 

</div>

 

</div>

Line 31:
Line 35:
 

{{PortalBox | title=EVENTI IN CORSO | content={{Current Events Shortlist}} }}

 

{{PortalBox | title=EVENTI IN CORSO | content={{Current Events Shortlist}} }}

 
 
−

{{PortalBox | title=ITALIA | content= [[Image:CIV-Franciscus_Apulus_Caesar.jpg|75px]] [[Franciscus Apulus Caesar (Nova Roma)|Franciscus Apulus Caesar]], ''praefectus [[IT:Italia (Nova Roma)|Italia]]e.''}}

+

{{PortalBox | title=LA FOTO DEL GIORNO | content={{}} }}

−

 

+
−

{{PortalBox | title=LA FOTO DEL GIORNO | content={{Template:IT:DailyPhoto}} }}

+
 
 
−

{{PortalBox | title=DIVENTA CITTADINO | content=

+

{{a citizen}}

−

* [[IT:FAQ|FAQ - Domande più frequenti]]

+
−

* [[IT:Choosing a Roman name|Scegliere un nome romano]]

+
−

* '''[http://www.novaroma.org/bin/apply?lang=it Iscrizione]'''

+
−

* Per i nuovi Cittadini: [[New citizen first steps|''ora cosa faccio?'']]

+
−

* [http://groups.yahoo.com/group/Nova-Roma/ Nova Roma Mailing List] - iscriviti alla nostra mailing list internazionale}}

+
 

</div>

 

</div>

 

<div style="clear:both">{{PortalBox | title=Le Site Web de Nova Roma| content=''Cittadini novi romani! - Potete modificare questo sito!''

 

<div style="clear:both">{{PortalBox | title=Le Site Web de Nova Roma| content=''Cittadini novi romani! - Potete modificare questo sito!''

Line 49:
Line 46:
 

</div>

 

</div>

 
 
−

[[Category:Master Index]]

+

[[Category:]]

 

__NOTOC__ __NOEDITSECTION__

 

__NOTOC__ __NOEDITSECTION__
---
Latest revision as of 13:14, 27 September 2012
---
NOVA ROMA
Dedicato al ripristino della religione, della cultura e delle virtù romane classiche
 Home| Latíné | Deutsch | Español | Français | Italiano | Magyar | Português | Română | Русский | English
Hodié a.d. IV Kal. Oct. ‡ Q. Arrio (II) T. Domitio (III) cos. ‡ MMDCCLXXIII a.u.c. est. "H"
---
---
LA FOTO DEL GIORNO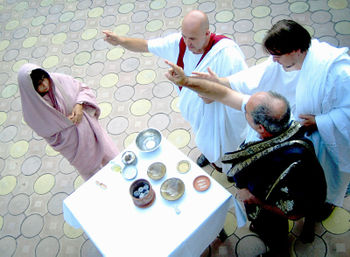 Livia Plauta
tribuna plebis,
T. Iulius
consul,
Cn. Lentulus
quaestor and
M. Moravius
consul, flamen, pontifex and augur sacrifice to Hercules for the 10th Anniversary of Nova Roma in 2008, during the
VI Conventus Novae Romae
.
Le Site Web de Nova Roma
Cittadini novi romani! - Potete modificare questo sito!
Contatta
il
WikiMagisters
per ulteriori richieste.