IT:Pagina principale
From NovaRoma
(Difference between revisions)
 

(3 intermediate revisions by one user not shown)
Line 6:
Line 6:
 

----

 

----

 
 
−

'''Link rapidi:''' [[IT:Declaration (Nova Roma)|Dichiarazione]] - [[IT:FAQ|FAQ]] - [[:Category:Legal system (Nova Roma)|Le nostre leggi]] - [[Aerarium Saturni (Nova Roma)|Aerarium Saturni]] - [[{{CURRENTYEAR}}|Magistrati]] - [[:Category:Senators (Nova Roma)|Senatori]] - [[Provincia (Nova Roma)|Le province]] - [[Annals (Nova Roma)|Annali di Nova Roma]] - <!-- ''[[Ager Publicus (Nova Roma)|Ager Publicus]]'' - -->[http://www.novaroma.org/civitas/album Album Civium] - ''{{Calendar|Calendario}}''}}

+

'''Link rapidi:''' [[IT:Declaration (Nova Roma)|Dichiarazione]] - [[IT:FAQ|FAQ]] - [[:Category:Legal system (Nova Roma)|Le nostre leggi]] - [[Aerarium Saturni (Nova Roma)|Aerarium Saturni]] - [[{{CURRENTYEAR}}|Magistrati]] - [[:Category:Senators (Nova Roma)|Senatori]] - [[Provincia (Nova Roma)|Le province]] - [[Annals (Nova Roma)|Annali di Nova Roma]] - <!-- ''[[Ager Publicus (Nova Roma)|Ager Publicus]]'' - -->[http://www.novaroma.org/civitas/album Album Civium] - ''{{Calendar|Calendario}}

 
+

 

 
+
 
+
 
+

''}}

 
 
 

{{PortalBox | title=CULTUS DEORUM | content={{Include summary|IT:Cultus deorum Romanorum}}

 

{{PortalBox | title=CULTUS DEORUM | content={{Include summary|IT:Cultus deorum Romanorum}}

Line 24:
Line 28:
 

----

 

----

 
 
−

'''Link rapidi:''' '''[[:Category:Bibliotheca|Biblioteca]]''' - [[:Category:Reading list|Reading list]]s - [[Roman Virtues|Virtù romane]] - [[Lingua Latina|La lingua latina]] - [[:Category:Roman Clothing and Equipment|Vêtements et équipements romains]]}}

+

'''Link rapidi:''' '''[[:Category:Bibliotheca|Biblioteca]]''' - [[:Category:Reading list|Reading list]]s - [[Roman Virtues|Virtù romane]] - [[Lingua Latina|La lingua latina]] - [[:Category:Roman Clothing and Equipment|]]}}

 
 
 

</div>

 

</div>

Line 30:
Line 34:
 

<div style="width:49.7%;float:right; margin-right:0px">

 

<div style="width:49.7%;float:right; margin-right:0px">

 

{{PortalBox | title=EVENTI IN CORSO | content={{Current Events Shortlist}} }}

 

{{PortalBox | title=EVENTI IN CORSO | content={{Current Events Shortlist}} }}

−

 
−

{{PortalBox | title=ITALIA | content= [[Image:CIV-Franciscus_Apulus_Caesar.jpg|75px]] [[Franciscus Apulus Caesar (Nova Roma)|Franciscus Apulus Caesar]], ''praefectus [[IT:Italia (Nova Roma)|Italia]]e.''}}

 
 
 
 

{{PortalBox | title=LA FOTO DEL GIORNO | content={{PhotoSwitcher}} }}

 

{{PortalBox | title=LA FOTO DEL GIORNO | content={{PhotoSwitcher}} }}
---
Latest revision as of 13:13, 27 September 2012
NOVA ROMA
Dedicato al ripristino della religione, della cultura e delle virtù romane classiche
 Home| Latíné | Deutsch | Esperanto | Español | Français | Italiano | Magyar | Português | Română | Русский | English
Hodié a.d. XVII Kal. Ian. ‡ II post M. Pompeium Sex. Lucilium cos. ‡ MMDCCLXX a.u.c. est. "F"
LA FOTO DEL GIORNO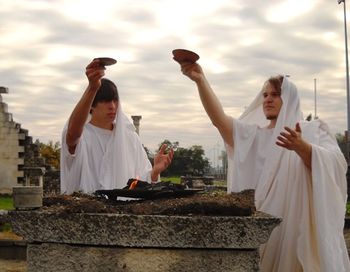 Praefectus
of
Lusitania
C. Cocceius
and
legatus pro praetore
of
Pannonia
Cn. Lentulus pontifex
, offering a sacrifice for the well-being of
Nova Roma
at the altar of Aquincum, at the
Lusitania-Pannonia Interprovincial Meeting
in Budapest, Hungary, 2010.
Le Site Web de Nova Roma
Cittadini novi romani! - Potete modificare questo sito!
Contatta
il
WikiMagisters
per ulteriori richieste.