IT:Pagina principale
From NovaRoma
(Difference between revisions)
 

(23 intermediate revisions by 2 users not shown)
Line 6:
Line 6:
 

----

 

----

 
 
−

'''Link rapidi:''' [[IT:Declaration (Nova Roma)|Dichiarazione]] - [[FAQ]] - [[:Category:Tabularium (Nova Roma)|Le nostre leggi]] - [[Aerarium Saturni (Nova Roma)|Aerarium Saturni]] - [[{{CURRENTYEAR}}|Magistrati]] - [[:Category:Senators (Nova Roma)|Senatori]] - [[Provincia (Nova Roma)|Le province]] - [[Annals (Nova Roma)|Annali di Nova Roma]] - ''[[Ager Publicus (Nova Roma)|Ager Publicus]]'' - [http://www.novaroma.org/civitas/album Album Civium] - ''[[Fasti MMDCCLX#{{#switch: {{#time:n}}| 1=IANVARIVS| 2=FEBRVARIVS| 3=MARTIVS| 4=APRILVS| 5=MAIVS| 6=IVNIVS| 7=QVINTILIS| 8=SEXTILIS| 9=SEPTEMBER| 10=OCTOBER| 11=NOVEMBER| 12=DECEMBER}}|Calendario]]''}}

+

'''Link rapidi:''' [[IT:Declaration (Nova Roma)|Dichiarazione]] - [[FAQ]] - [[:Category:(Nova Roma)|Le nostre leggi]] - [[Aerarium Saturni (Nova Roma)|Aerarium Saturni]] - [[{{CURRENTYEAR}}|Magistrati]] - [[:Category:Senators (Nova Roma)|Senatori]] - [[Provincia (Nova Roma)|Le province]] - [[Annals (Nova Roma)|Annali di Nova Roma]] - ''[[Ager Publicus (Nova Roma)|Ager Publicus]]'' - [http://www.novaroma.org/civitas/album Album Civium] - ''{{|}}''}}

 
 
−

{{PortalBox | title=CULTUS DEORUM | content='''[[Cultus deorum Romanorum|La religione romana...]]'''

+

{{PortalBox | title=| content=  

 
+

'''[[|romana.

 
+

.. ]]'''

 
+

 

 
+
 
 
 

----

 

----

Line 14:
Line 18:
 

'''Link rapidi:''' ''[[:Category:Religio Romana (Nova Roma)|Cultus Deorum]]'' - [[Priests (Nova Roma)|Sacerdoti]] -  [[Foreign priesthoods (Nova Roma)|Foreign priesthoods in Nova Roma]] - [[:Category:Ritus|Riti e Rituali]] - [[Roman Calendar|Calendario romano]] - ''[[IT:Comitia Curiata (Nova Roma)|Comitia Curiata]]''}}

 

'''Link rapidi:''' ''[[:Category:Religio Romana (Nova Roma)|Cultus Deorum]]'' - [[Priests (Nova Roma)|Sacerdoti]] -  [[Foreign priesthoods (Nova Roma)|Foreign priesthoods in Nova Roma]] - [[:Category:Ritus|Riti e Rituali]] - [[Roman Calendar|Calendario romano]] - ''[[IT:Comitia Curiata (Nova Roma)|Comitia Curiata]]''}}

 
 
−

{{PortalBox | title=VITA CIVICA| content='''[[Civic life (Nova Roma)|La vita civile...]]'''

+

{{PortalBox | title=VITA CIVICA| content=Civic life (Nova Roma)

 
 
 

----

 

----

 
 
−

'''Link rapidi:''' [[Mailing lists (Nova Roma)|Il nostro forum]] - [[Sodalitas|Gruppi speciali]] - [[Reenactments|Ricostruzioni militari]] - ''[[Academia Thules]]'' - [[IT:Macellum (Nova Roma)|Il mercato]] - [[:Category:Events for Romans|Eventi per romani]]}}

+

'''Link rapidi:''' [[Mailing lists (Nova Roma)|Il nostro forum]] - [[Sodalitas|Gruppi speciali]] - [[|Ricostruzioni militari]] - ''[[Academia Thules]]'' - [[IT:Macellum (Nova Roma)|Il mercato]] - [[:Category:Events for Romans|Eventi per romani]]}}

 
 
−

{{PortalBox | title=VIA ROMANA| content=[[Via Romana|La via romana...]]'''

+

{{PortalBox | title=| content=Via Romana

 
 
 

----

 

----

 
 
−

'''Link rapidi:''' '''[[:Category:Bibliotheca|Biblioteca]]''' - [[:Category:Reading list|Reading list]]s - [[Roman Virtues|Virtù romane]] - [[Lingua Latina|La lingua latina]] - [[:Category:Roman Clothing and Equipment|Vêtements et équipements romains]]}}

+

'''Link rapidi:''' '''[[:Category:Bibliotheca|Biblioteca]]''' - [[:Category:Reading list|Reading list]]s - [[Roman Virtues|Virtù romane]] - [[Lingua Latina|La lingua latina]] - [[:Category:Roman Clothing and Equipment|]]}}

 
 
 

</div>

 

</div>

Line 31:
Line 35:
 

{{PortalBox | title=EVENTI IN CORSO | content={{Current Events Shortlist}} }}

 

{{PortalBox | title=EVENTI IN CORSO | content={{Current Events Shortlist}} }}

 
 
−

{{PortalBox | title=LA FOTO DEL GIORNO | content={{Template:IT:DailyPhoto}} }}

+

{{PortalBox | title=LA FOTO DEL GIORNO | content={{}} }}

 
 
−

{{PortalBox | title=DIVENTA CITTADINO | content=

+

{{a citizen}}

−

* [[FAQ|Frequently Asked Questions-Domande più frequenti]]

+
−

* [[IT:Choosing a Roman name|Scegliere un nome romano]]

+
−

* '''[http://www.novaroma.org/bin/apply?lang=it Iscrizione]'''

+
−

* [[New citizen first steps|Per i nuovi Cittadini]] ''ora cosa faccio?''

+
−

* [http://groups.yahoo.com/group/Nova-Roma/ Nova Roma Mailing List] - iscriviti alla nostra mailing list

+
−

* [[NovaRoma:Community Portal|Modifica questo sito (Wiki)]] }}

+
 

</div>

 

</div>

 

<div style="clear:both">{{PortalBox | title=Le Site Web de Nova Roma| content=''Cittadini novi romani! - Potete modificare questo sito!''

 

<div style="clear:both">{{PortalBox | title=Le Site Web de Nova Roma| content=''Cittadini novi romani! - Potete modificare questo sito!''

 
 
−

* Devi essere un cittadino di [[Nova Roma]]: [http://www.novaroma.org/bin/apply Iscriviti]

+

* Crea un account Wiki: [[Special:Userlogin|Registrati qui]]

−

* Crea un account Wiki: [[Special:Userlogin | Registrati qui]]

+
 

* Visita la nostra [[NovaRoma:Community Portal|Community]] per modificare le linee guida

 

* Visita la nostra [[NovaRoma:Community Portal|Community]] per modificare le linee guida

 

[[NovaRoma:Admin Requests|Contatta]] il [[NovaRoma:WikiMagisters|WikiMagisters]] per ulteriori richieste.}}

 

[[NovaRoma:Admin Requests|Contatta]] il [[NovaRoma:WikiMagisters|WikiMagisters]] per ulteriori richieste.}}

 

</div>

 

</div>

 
 
−

[[Category:Master Index]]

+

[[Category:]]

 

__NOTOC__ __NOEDITSECTION__

 

__NOTOC__ __NOEDITSECTION__
---
Latest revision as of 13:14, 27 September 2012
NOVA ROMA
Dedicato al ripristino della religione, della cultura e delle virtù romane classiche
 Home| Latíné | Deutsch | Esperanto | Español | Français | Italiano | Magyar | Português | Română | Русский | English
Hodié a.d. XI Kal. Sex. ‡ III post M. Pompeium Sex. Lucilium cos. ‡ MMDCCLXXI a.u.c. est. "C"
LA FOTO DEL GIORNO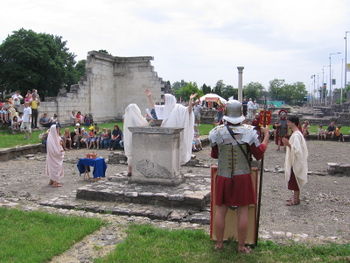 Legatus pro praetore
of
Pannonia
and priest
Cn. Lentulus
, assisted by Nova Romans, sacrifices for the well-being of
Nova Roma
at the altar of Aquincum, during the
Floralia Festival
in Budapest, Hungary.
Le Site Web de Nova Roma
Cittadini novi romani! - Potete modificare questo sito!
Contatta
il
WikiMagisters
per ulteriori richieste.