Gnaeus Equitius Marinus (Nova Roma)
From NovaRoma
 Home| Latíné | Deutsch | Español | Français | Italiano | Magyar | Português | Română | Русский | English
 Wiki: User: Talk - Contributions to this site 
 The only official record is in the Album Civium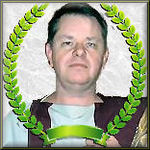 Gnaeus Equitius Marinus
Album Civium
Cn. Equitius Marinus was a praetorial, consular, and censorial senator of Nova Roma.
From Provincia Mediatlantica, he has served as aedilis curulis and propraetor before being admitted to the senate upon election to his consulship. Cn. Marinus, often mentioned as "Censorius", received an official recognition from the senate for his various merits in the service of Nova Roma. The senate honoured him with 10 additional century points and the with the right of wearing a laurel wreath in his album civium profile.
He resigned after the failed Coup attempt and Civil War of 2010 - when an attempt to appoint him dictator of Nova Roma was proven to be illegal and crushed.
Other Posts