Fibula
From NovaRoma
(Difference between revisions)
 

Line 1:
Line 1:
 

A pin or clasp used to in relation to clothing.  

 

A pin or clasp used to in relation to clothing.  

 
 
 
+
 
+
 
+
 
+
 
+
 
+
 
+
 
+
 
+
 
+
 
+
 
+
 
+
 
+
 
+
 
+
 
+
 
+
 
+
 
+
 
+
 
+
 
+
 
+
 

[http://www.britarch.ac.uk/BA/ba77/feat4.shtml ''Essential items of dress'' British Archaeology Issue 77 July 2004]

 

[http://www.britarch.ac.uk/BA/ba77/feat4.shtml ''Essential items of dress'' British Archaeology Issue 77 July 2004]
---
Revision as of 02:27, 1 August 2006
A pin or clasp used to in relation to clothing.
Forms
Broadly speaking there were three main types of fibulae.
Bow
This is the "safety pin" shape and all of its variations.
Plate
This is the variety most like the modern "brooch".
Ring
The ring and pin configuration remained popular in the post-Roman period. The ring might be solid ot it might have a gap.
Use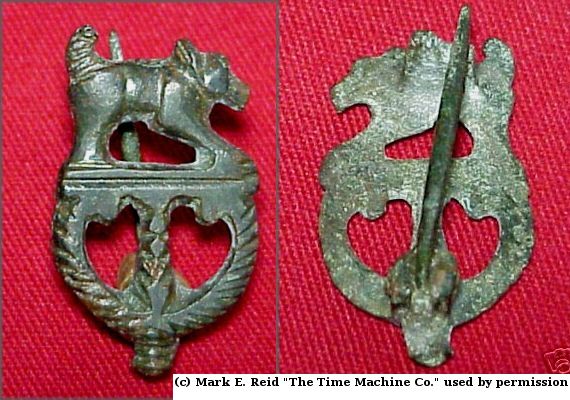 Although fibulae are often illustrated in the "pin downwards" orientation, this might not have been the norm for fibulae.
Vide
Essential items of dress British Archaeology Issue 77 July 2004