FR:Accueil
From NovaRoma
(Difference between revisions)
m

 

(31 intermediate revisions by 6 users not shown)
Line 1:
Line 1:
−

{{MainPageBanner|subtitle=Consacré à la restauration des dieux, de la culture, et des vertus romaines}}

+

{{MainPageBanner|subtitle=à la restauration des dieux, de la culture, et des vertus romaines}}

 

<div style="width:100%">

 

<div style="width:100%">

 

<div style="width:49.7%;float:left; margin-left:0px">

 

<div style="width:49.7%;float:left; margin-left:0px">

−

{{PortalBox | title=RES PUBLICA | content=[[FR:Nova Roma|Nova Roma]] est dédiée à l'étude et la restauration de la culture romaine antique. '''[[Res Publica Novae Romae|La République...]]'''

+

{{PortalBox | title=RES PUBLICA | content=FR:Res Novae Romae

 
 
 

----

 

----

 
 
−

'''Quick links:''' [[Declaration (Nova Roma)|Declaration]] - [[FAQ|QFP]] - [[:Category:Tabularium (Nova Roma)|La Constitution et les lois]] - [[Aerarium Saturni (Nova Roma)|Aerarium Saturni]] - [[{{CURRENTYEAR}}|Les magistrats]] - [[:Category:Senators (Nova Roma)|Les sénateurs]] - [[Provincia (Nova Roma)|Les provinces]] - [[Annals (Nova Roma)|Les Annales de Nova Roma]] - ''[[Ager Publicus (Nova Roma)|Ager Publicus]]'' - [http://www.novaroma.org/civitas/album Album Civium] - ''[[Fasti MMDCCLX#{{#switch: {{#time:n}}| 1=IANVARIVS| 2=FEBRVARIVS| 3=MARTIVS| 4=APRILVS| 5=MAIVS| 6=IVNIVS| 7=QVINTILIS| 8=SEXTILIS| 9=SEPTEMBER| 10=OCTOBER| 11=NOVEMBER| 12=DECEMBER}}|Le Calendrier]]''}}

+

''':''' [[(Nova Roma)|]] - [[FAQ|QFP]] - [[:Category:(Nova Roma)|La Constitution et les lois]] - [[Aerarium Saturni (Nova Roma)|Aerarium Saturni]] - [[{{CURRENTYEAR}}|Les magistrats]] - [[:Category:Senators (Nova Roma)|Les sénateurs]] - [[Provincia (Nova Roma)|Les provinces]] - [[Annals (Nova Roma)|Les Annales de Nova Roma]] - ''[[Ager Publicus (Nova Roma)|Ager Publicus]]'' - [http://www.novaroma.org/civitas/album Album Civium] - {{

 
+
 
+

 

 
+

{{| =| = ''}}

 
 
−

{{PortalBox | title=CULTUS DEORUM | content='''[[Cultus deorum Romanorum|La Religion Romaine...]]'''

+

{{PortalBox | title=CULTUS DEORUM| content=Cultus deorum Romanorum

 
 
 

----

 

----

 
 
−

'''Quick links:''' ''[[:Category:Religio Romana (Nova Roma)|Cultus Deorum]]'' - [[Priests (Nova Roma)|Les prêtres et les prêtrises]] -  [[Foreign priesthoods (Nova Roma)|Foreign priesthoods in Nova Roma]] - [[:Category:Ritus|Les rites et les rituels]] - [[Roman Calendar|Le calendrier romain]] - ''[[FR:Comitia Curiata (Nova Roma)|Comitia Curiata]]''}}

+

''':''' [[:Category:Religio Romana (Nova Roma)|Cultus Deorum]] - [[Priests (Nova Roma)|Les prêtres et les prêtrises]] -  [[Foreign priesthoods (Nova Roma)|]] - [[:Category:Ritus|et rituels]] - [[Roman Calendar|Le calendrier romain]] - [[FR:Comitia Curiata (Nova Roma)|]]

 
+

}}

 
 
−

{{PortalBox | title=VITA CIVICA| content='''[[Civic life (Nova Roma)|Les citoyens...]]'''

+

{{PortalBox | title=VITA CIVICA| content=Civic life (Nova Roma)

 
 
 

----

 

----

 
 
−

'''Quick links:''' [[Mailing lists (Nova Roma)|Le forum de la communauté]] - [[Sodalitas|Les regroupements particuliers]] - [[Reenactments|La reconstitution militaire]] - ''[[Academia Thules]]'' - [[Macellum (Nova Roma)|Le marché]] - [[:Category:Events for Romans|Les événements pour les Romains]]

+

''':''' [[Mailing lists (Nova Roma)|Le forum de la communauté]] - [[Sodalitas|Les regroupements particuliers]] - [[Reenactments|La reconstitution militaire]] - ''[[Academia Thules]]'' - [[Macellum (Nova Roma)|Le marché]] - [[:Category:Events for Romans|Les événements pour les Romains]]

 

}}

 

}}

 
 
−

{{PortalBox | title=VIA ROMANA| content=[[Via Romana|La Voie Romaine...]]'''

+

{{PortalBox | title=VIA ROMANA| content=Via Romana

 
 
 

----

 

----

 
 
−

'''Quick links:''' '''[[:Category:Bibliotheca|Library]]''' - [[:Category:Reading list|Reading list]]s - [[Roman Virtues|Les vertus romaines]] - [[FR:Lingua Latina|La langue latine]] - [[:Category:Roman Clothing and Equipment|Vêtements et équipements romains]]

+

''':''' '''[[:Category:Bibliotheca|]]''' - [[:Category:Reading list|]] - [[Roman Virtues|Les vertus romaines]] - [[FR:|La langue latine]] - [[:Category:Roman Clothing and Equipment|Vêtements et équipements]]

 

}}

 

}}

 

</div>

 

</div>

Line 32:
Line 36:
 

{{PortalBox | title=L'ACTUALITÉ | content={{Current Events Shortlist}} }}

 

{{PortalBox | title=L'ACTUALITÉ | content={{Current Events Shortlist}} }}

 
 
−

{{PortalBox | title=LA PHOTO DU JOUR | content={{Template:FR:DailyPhoto}} }}

+

{{PortalBox | title=LA PHOTO DU JOUR | content={{}}

 
+

 

 
+

}}

 
 
−

{{PortalBox | title=DEVENIR UN CITOYEN | content=* [[FAQ|Questions Fréquemment Posées]]

 
−

* [http://groups.yahoo.com/group/Nova-Roma/ Le forum de la communauté] - Participer à notre liste de discussion

 
−

* [http://www.novaroma.org/bin/contact Contact a magistrate]

 
−

* [[Choosing a Roman name|Se choisir un nom romain]]

 
−

* '''[http://www.novaroma.org/bin/apply Demander la citoyenneté]'''

 
−

* Pour les nouveaux citoyens: [[New citizen first steps|''Que fais-je maintenant ?'']] }}

 
 

</div>

 

</div>

 
+
 

<div style="clear:both">{{PortalBox | title=Le Site Web de Nova Roma| content=

 

<div style="clear:both">{{PortalBox | title=Le Site Web de Nova Roma| content=

−

''CITOYENS de Nova Roma - Vous pouvez éditer ce site !''

+

de Nova Roma 'Tout citoyen peut [[NovaRoma:|créer un compte wiki]]Adhérez à la liste [http://groups.yahoo.com/group/NRWiki NRWiki @ yahoogroups.com] . [[NovaRoma:|portail de la communauté]] et . [[NovaRoma:Admin Requests|les administrateurs du wiki]] si vous avez des .

−

* Voulez-vous nous aider ? Tout citoyen peut [[NovaRoma:create a wiki account|créer un compte wiki]]!

+
−

* Des problèmes ? Adhérez à la liste [http://groups.yahoo.com/group/NRWiki NRWiki @ yahoogroups.com].

+
−

* Visiter le [[NovaRoma:Community Portal|portail de la communauté]] et consultez l'aide à la rédaction.

+
−

*[[NovaRoma:Admin Requests|Contacter les administrateurs du wiki]] si vous avez des interrogations.

+
 

}}

 

}}

 

</div>

 

</div>

 
 
−

[[Category:Master Index]]

+

[[Category:]]

 

__NOTOC__ __NOEDITSECTION__

 

__NOTOC__ __NOEDITSECTION__
---
Latest revision as of 08:46, 23 August 2012
NOVA ROMA
Dédiée à la restauration des dieux, de la culture, et des vertus romaines
 Home| Latíné | Deutsch | Esperanto | Español | Français | Italiano | Magyar | Português | Română | Русский | English
Hodié a.d. X Kal. Nov. ‡ II post M. Pompeium Sex. Lucilium cos. ‡ MMDCCLXX a.u.c. est. "H"
PROVINCIA GALLIA
Il n'y a pas de gouvernement dans la province de Gaule pour le moment. Veuillez contacter les Consuls.
LA PHOTO DU JOUR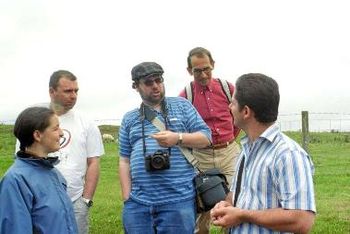 Novi Romani at the Brocolitia Mithraeum, preparing to make an offering, at the
V Conventus Novae Romae
.