FR:Accueil
From NovaRoma
(Difference between revisions)
Line 8:
Line 8:
 

'''<u>Liens rapides</u> :''' [[FR:Déclaration (Nova Roma)|Déclaration]] - [[FR:FAQ|QFP]] - [[:Category:Legal system (Nova Roma)|La Constitution et les lois]] - [[Aerarium Saturni (Nova Roma)|Aerarium Saturni]] - [[{{CURRENTYEAR}}|Les magistrats]] - [[:Category:Senators (Nova Roma)|Les sénateurs]] - [[Provincia (Nova Roma)|Les provinces]] - [[Annals (Nova Roma)|Les Annales de Nova Roma]] - <!-- ''[[Ager Publicus (Nova Roma)|Ager Publicus]]'' - -->[http://www.novaroma.org/civitas/album Album Civium] - {{Calendar|Le Calendrier}}

 

'''<u>Liens rapides</u> :''' [[FR:Déclaration (Nova Roma)|Déclaration]] - [[FR:FAQ|QFP]] - [[:Category:Legal system (Nova Roma)|La Constitution et les lois]] - [[Aerarium Saturni (Nova Roma)|Aerarium Saturni]] - [[{{CURRENTYEAR}}|Les magistrats]] - [[:Category:Senators (Nova Roma)|Les sénateurs]] - [[Provincia (Nova Roma)|Les provinces]] - [[Annals (Nova Roma)|Les Annales de Nova Roma]] - <!-- ''[[Ager Publicus (Nova Roma)|Ager Publicus]]'' - -->[http://www.novaroma.org/civitas/album Album Civium] - {{Calendar|Le Calendrier}}

 

}}

 

}}

 
+
 
+
 
 
 

{{PortalBox | title=CULTUS DEORUM| content={{Include summary|FR:Cultus deorum Romanorum}}

 

{{PortalBox | title=CULTUS DEORUM| content={{Include summary|FR:Cultus deorum Romanorum}}

Line 33:
Line 35:
 

<div style="width:49.7%;float:right; margin-right:0px">

 

<div style="width:49.7%;float:right; margin-right:0px">

 

{{PortalBox | title=L'ACTUALITÉ | content={{Current Events Shortlist}} }}

 

{{PortalBox | title=L'ACTUALITÉ | content={{Current Events Shortlist}} }}

−

 
−

{{PortalBox | title=PROVINCIA GALLIA | content= [[Image:CIV-Publius Memmius Albucius.jpg|75px]] [[Publius Memmius Albucius (Nova Roma)|P. Memmius Albucius]], ''proconsul [[FR:Provincia Gallia (Nova Roma)|Galliae]]''}}

 
 
 
 

{{PortalBox | title=LA PHOTO DU JOUR | content={{PhotoSwitcher}} }}

 

{{PortalBox | title=LA PHOTO DU JOUR | content={{PhotoSwitcher}} }}
---
Revision as of 11:22, 25 August 2011
NOVA ROMA
Dédiée à la restauration des dieux, de la culture, et des vertus romaines
 Home| Latíné | Deutsch | Esperanto | Español | Français | Italiano | Magyar | Português | Română | Русский | English
Hodié a.d. XVII Kal. Ian. ‡ II post M. Pompeium Sex. Lucilium cos. ‡ MMDCCLXX a.u.c. est. "E"
PROVINCIA GALLIA
No Gallian government currently. Contact the consuls.
LA PHOTO DU JOUR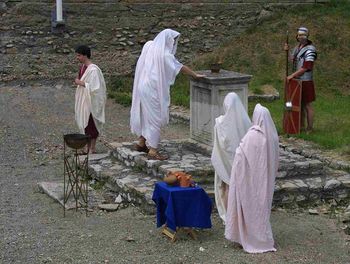 Cn. Lentulus
sacrifices for
Nova Roma
at the altar of Aquincum, assisted by Nova Roman citizens of
Pannonia
.