FR:Accueil
From NovaRoma
(Difference between revisions)
Line 8:
Line 8:
 

'''<u>Liens rapides</u> :''' [[FR:Déclaration (Nova Roma)|Déclaration]] - [[FR:FAQ|QFP]] - [[:Category:Legal system (Nova Roma)|La Constitution et les lois]] - [[Aerarium Saturni (Nova Roma)|Aerarium Saturni]] - [[{{CURRENTYEAR}}|Les magistrats]] - [[:Category:Senators (Nova Roma)|Les sénateurs]] - [[Provincia (Nova Roma)|Les provinces]] - [[Annals (Nova Roma)|Les Annales de Nova Roma]] - <!-- ''[[Ager Publicus (Nova Roma)|Ager Publicus]]'' - -->[http://www.novaroma.org/civitas/album Album Civium] - {{Calendar|Le Calendrier}}

 

'''<u>Liens rapides</u> :''' [[FR:Déclaration (Nova Roma)|Déclaration]] - [[FR:FAQ|QFP]] - [[:Category:Legal system (Nova Roma)|La Constitution et les lois]] - [[Aerarium Saturni (Nova Roma)|Aerarium Saturni]] - [[{{CURRENTYEAR}}|Les magistrats]] - [[:Category:Senators (Nova Roma)|Les sénateurs]] - [[Provincia (Nova Roma)|Les provinces]] - [[Annals (Nova Roma)|Les Annales de Nova Roma]] - <!-- ''[[Ager Publicus (Nova Roma)|Ager Publicus]]'' - -->[http://www.novaroma.org/civitas/album Album Civium] - {{Calendar|Le Calendrier}}

 

}}

 

}}

 
+
 
+
 
 
 

{{PortalBox | title=CULTUS DEORUM| content={{Include summary|FR:Cultus deorum Romanorum}}

 

{{PortalBox | title=CULTUS DEORUM| content={{Include summary|FR:Cultus deorum Romanorum}}

Line 33:
Line 35:
 

<div style="width:49.7%;float:right; margin-right:0px">

 

<div style="width:49.7%;float:right; margin-right:0px">

 

{{PortalBox | title=L'ACTUALITÉ | content={{Current Events Shortlist}} }}

 

{{PortalBox | title=L'ACTUALITÉ | content={{Current Events Shortlist}} }}

−

 
−

{{PortalBox | title=PROVINCIA GALLIA | content= [[Image:CIV-Publius Memmius Albucius.jpg|75px]] [[Publius Memmius Albucius (Nova Roma)|P. Memmius Albucius]], ''proconsul [[FR:Provincia Gallia (Nova Roma)|Galliae]]''}}

 
 
 
 

{{PortalBox | title=LA PHOTO DU JOUR | content={{PhotoSwitcher}} }}

 

{{PortalBox | title=LA PHOTO DU JOUR | content={{PhotoSwitcher}} }}
---
Revision as of 11:22, 25 August 2011
NOVA ROMA
Dédiée à la restauration des dieux, de la culture, et des vertus romaines
 Home| Latíné | Deutsch | Esperanto | Español | Français | Italiano | Magyar | Português | Română | Русский | English
Hodié a.d. XII Kal. Apr. ‡ III post M. Pompeium Sex. Lucilium cos. ‡ MMDCCLXXI a.u.c. est. "H"
PROVINCIA GALLIA
No Gallian government currently. Contact the consuls.
LA PHOTO DU JOUR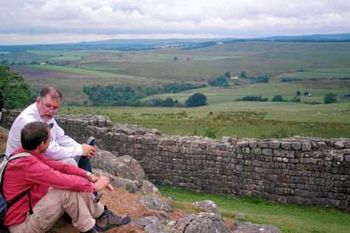 P. Memmius Albucius & K. Fabius Buteo at Walltown Crags, Hadrian's Wall, during the
V Conventus Novae Romae
.