ES:Sodalitas Militarium
From NovaRoma
(Difference between revisions)
Line 4:
Line 4:
 
 
 
 
−

Uno de los [[Sodalitates (Nova Roma)|Sodalitates]] de Nova Roma.

+

los [[Sodalitates (Nova Roma)|Sodalitates]] de Nova Roma.

 
 
 

[[Sodalitas Militarium]] - '''Militar romano'''

 

[[Sodalitas Militarium]] - '''Militar romano'''

 
 
 
 
−

[[Image:Militarium.gif|right]]Members discuss and study aspects of the Roman Military with focus on Infantry, Cavalry, Naval, Engineering and Cartography. Although the Sodalitas Militarium in no way promotes conquest and unnecessary military force, we are intrigued by the efficiency of the Roman Military Vehicle and its positive contributions to the foundation of Ancient and contemporary civilization, as well as its tactical legacy to the military forces of today. Members discuss Ancient Roman military strategies, tactics, battles, and plan future sodalitas [[:Category:Events_for_Romans|events]]. The Sodalitas is also involved in the sponsoring of Roman [[:Category:Reenactments|Reenactment Legions]] worldwide.

+

[[Image:Militarium.gif|right]], , , . Sodalitas Militarium , , . Members discuss Ancient Roman military strategies, tactics, battles, and plan future sodalitas [[:Category:Events_for_Romans|events]]. The Sodalitas is also involved in the sponsoring of Roman [[:Category:Reenactments|Reenactment Legions]] worldwide.

 
 
 

Praefectus Castrorum: [[Marcus Minucius Audens (Nova Roma)|Marcus Minucius Audens]]

 

Praefectus Castrorum: [[Marcus Minucius Audens (Nova Roma)|Marcus Minucius Audens]]
---
Revision as of 18:58, 8 November 2008
 Home| Latíné | Deutsch | Español | Français | Italiano | Magyar | Português | Română | Русский | English

Sobre los Sodalitates de Nova Roma.
Sodalitas Militarium - Militar romano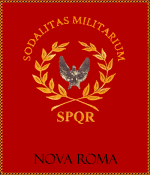 Son miembros que estudian y discuten aspectos militares romanos especialmente sobre infantería, caballería, naval, ingeniería y cartografía. Aunque los Sodalitas Militarium en ninguna medida promueve conquistas y fuerzas militares innecesarias, nos sentimos intrigados por la eficiencia de la maquinaria militar romana y sus positivas contribuciones a la fundacion de la antigua y de la contemporánea civilización, como tambien se benefician de los legados tácticos las fuerzas de hoy en día. Members discuss Ancient Roman military strategies, tactics, battles, and plan future sodalitas
events
. The Sodalitas is also involved in the sponsoring of Roman
Reenactment Legions
worldwide.
Praefectus Castrorum: Marcus Minucius Audens
Mailing List: groups.yahoo.com/group/SodalitasMilitarium/