EO:Ĉefpaĝo
From NovaRoma
(Difference between revisions)
m

 

(10 intermediate revisions by 2 users not shown)
Line 1:
Line 1:
 

{{MainPageBanner|subtitle=Dediĉata por restarigi religion klasikan Roman, kulturon, kaj virton}}

 

{{MainPageBanner|subtitle=Dediĉata por restarigi religion klasikan Roman, kulturon, kaj virton}}

−

__NOTOC__ __NOEDITSECTION__

 
−

{{LanguageBarEO|Main_Page}}

 
−

 
−

<table class="mainpage_table">

 
−

<tr>

 
−

<td class="mainpage_left">

 
−

{{MainPageBox | title=NOVA ROMA - RETLOKENHAVOJ | content=

 
 
 
−

===Res Publica ''(la Republiko)''===

+

=::

−

*[[Nova Roma]] - Kio estas ''Nova Roma''? - [[FAQ]]

+

:::

−

*[[:Category:Tabularium (Nova Roma)|Tabularium]] - Leĝoj, Ediktoj, Konstitucio

+

| | |

−

*[[:Category:Magistrates (Nova Roma)|Juĝistoj]] kaj [[:Category:Senators (Nova Roma)|Senatanoj]]

+
−

*''[[Provincia (Nova Roma)|Provincia]]e'' (Provincoj)

+
−

*[[Annals (Nova Roma) | Kronikoj de Nova Roma]] - nia historio

+
−

*[[Ager Publicus (Nova Roma)|Ager Publicus]] - nia bieno

+
 
 
−

===Cultus Deorum ''(la Religio Roma)''===

+

=la Religio Roma =

 

*[[:Category:Religio Romana (Nova Roma)|Cultus Deorum]]

 

*[[:Category:Religio Romana (Nova Roma)|Cultus Deorum]]

 

*[[Priests (Nova Roma)|Pastroj kaj Pastrecoj]]

 

*[[Priests (Nova Roma)|Pastroj kaj Pastrecoj]]

Line 22:
Line 11:
 

*[[Roman Calendar]]

 

*[[Roman Calendar]]

 

*[[Comitia Curiata (Nova Roma)|Comitia Curiata]]

 

*[[Comitia Curiata (Nova Roma)|Comitia Curiata]]

 
+
 
 
−

===Cives ''(Civitanoj)''===

+

=Civitanoj =

 

*[http://www.novaroma.org/civitas/album Album Civium] - datenbanko de civitanoj

 

*[http://www.novaroma.org/civitas/album Album Civium] - datenbanko de civitanoj

−

<!-- *[http://www.novaroma.org/bin/view/gallery Pinacotheca (Photo Gallery) ] -->

 
 

*[[Reenactments|Campus Martius]] - reaktoradoj militaj

 

*[[Reenactments|Campus Martius]] - reaktoradoj militaj

 

*[[Sodalitates (Nova Roma)|Sodalitates]] - Specialinteresaĵaroj

 

*[[Sodalitates (Nova Roma)|Sodalitates]] - Specialinteresaĵaroj

 

*[[:Category:Events for Romans|Okazaĵoj por Romanoj]] - pasintaj kaj estontaj kunvenoj

 

*[[:Category:Events for Romans|Okazaĵoj por Romanoj]] - pasintaj kaj estontaj kunvenoj

 
+
 
 
−

===Via Romana ''(la Kutimo Romana)''===

+

=la Kutimo Romana =

 

*[[Via Romana]]

 

*[[Via Romana]]

 

*[[Roman Virtues]]

 

*[[Roman Virtues]]

Line 36:
Line 26:
 

*[[:Category:Bibliotheca|Camenaeum]] - Literaturo kaj Arto

 

*[[:Category:Bibliotheca|Camenaeum]] - Literaturo kaj Arto

 

*[[:Category:Roman Clothing and Equipment|Vestoj Romaj kaj Ekipaĵoj]]

 

*[[:Category:Roman Clothing and Equipment|Vestoj Romaj kaj Ekipaĵoj]]

 
+
 
 
−

===Forum ''(komuniko, vendoplaco)''===

+

=komuniko, vendoplaco =

 

*[[Mailing lists (Nova Roma)| Komunaĵforumo]]

 

*[[Mailing lists (Nova Roma)| Komunaĵforumo]]

 

*[http://www.insulaumbra.com/academiathules/ Academia Thules] - Universitato nia unua

 

*[http://www.insulaumbra.com/academiathules/ Academia Thules] - Universitato nia unua

Line 43:
Line 34:
 

*[[Interview the Expert|Intervjuu la Eksperton]]

 

*[[Interview the Expert|Intervjuu la Eksperton]]

 

}}

 

}}

 
+
 
 
−

{{MainPageBox | title=CIVITANIĜI | content=

+
−

* [[FAQ|Frequently Asked Questions]]

+

{{| title= |content=}}

−

* [http://groups.yahoo.com/group/Nova-Roma/ Nova Roma Mailing List] - join our email discussion list

+
−

* [[Choosing a Roman name]]

+
−

* '''[http://www.novaroma.org/bin/apply Apply for citizenship in Nova Roma]'''

+
−

* Por Civitanoj Novaj: [[New citizen first steps|''now what do I do?'']]

+
−

}}

+
 
 
−

</td>

+

{| =|={{}}}}

−

<td class="mainpage_right" align="right">

+
−

<!-- don't use MainPageBox here, because the Current Events content comes from a template -->

+
−

{|class="mainpagebox"

+
−

|-

+
−

|class="mainpagebox_head" | OKAZAĴOJ NUNTEMPAJ

+
−

|-

+
−

|class="mainpagebox_inner"|

+
−

<div align="center">{{2006}}</div><hr>

+
−

{{Current Events Shortlist}}

+
−

<div align="center">'''[[Current events|All Current Events...]] - [http://www.novaroma.org/bin/calendar/cal Interactive Calendar]'''</div>

+
−

|}

+
 
 
−

{|class="mainpagebox"

+

{

−

|-

+
−

|class="mainpagebox_head" | PHOTO OF THE DAY

+
−

|-

+

=""

−

| {{DailyPhoto}}

+

{{| title=RETLOKO NOVA ROMA | content=

−

|}

+

''Citizens of Nova Roma - You can edit this site!'' Visit [[NovaRoma:|]] for editing guidelines. [[NovaRoma:Admin Requests|Contact the site administrators]] if you have any requests.

−

 

+
−

{{MainPageBox | title=RETLOKO NOVA ROMA | content=

+
−

''Citizens of Nova Roma - You can edit this site!''

+
−

* Visit our [[NovaRoma:Community Portal|Community Portal]] for editing guidelines.

+
−

*[[NovaRoma:Admin Requests|Contact the site administrators]] if you have any requests.

+
 

}}

 

}}

 
 
−

</td>

+

[[Category:]]

−

</tr>

+
−

</table>

+
−

 

+
−

[[Category:Master Index]]

+
---
Latest revision as of 01:30, 7 May 2010
NOVA ROMA
Dediĉata por restarigi religion klasikan Roman, kulturon, kaj virton
 Home| Latíné | Deutsch | Esperanto | Español | Français | Italiano | Magyar | Português | Română | Русский | English
Hodié a.d. XI Kal. Sep. ‡ III post M. Pompeium Sex. Lucilium cos. ‡ MMDCCLXXI a.u.c. est. "B"
FOTOGRAFI DE LA TAGO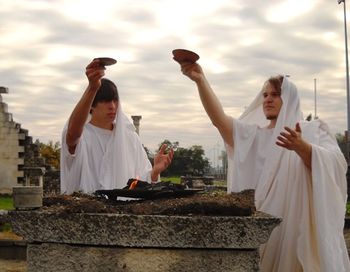 Praefectus
of
Lusitania
C. Cocceius
and
legatus pro praetore
of
Pannonia
Cn. Lentulus pontifex
, offering a sacrifice for the well-being of
Nova Roma
at the altar of Aquincum, at the
Lusitania-Pannonia Interprovincial Meeting
in Budapest, Hungary, 2010.