EO:Ĉefpaĝo
From NovaRoma
NOVA ROMA
Dediĉata por restarigi religion klasikan Roman, kulturon, kaj virton
 Home| Latíné | Deutsch | Esperanto | Español | Français | Italiano | Magyar | Português | Română | Русский | English
Hodié a.d. XI Kal. Sep. ‡ Template:2019 est. "B"
OKAZAĴOJ NUNTEMPAJ

DIS MANIBUS
LUCIO CORNELIO SULLAE FELICI
CENSORI III : CONSVLI III : PRAETORI : QVAESTORI : CVRATORI AERARII
SIT TIBI TERRA LEVIS
---

• The Senate voted. Read results here
• Other Senate sessions here
---
Taxes are now overdue if you have not paid! - Payment instructions here
You can still pay your tax but at an enhanced rate between April 1st and September 30th

---
Join the Nova Roman guest-friendship project.
Watch videos about Nova Roma on YouTube
Watch amazing photos of Nova Roman wedding ceremonies, a consecration of an augur, and an inauguration of a templum
---
---
FOTOGRAFI DE LA TAGO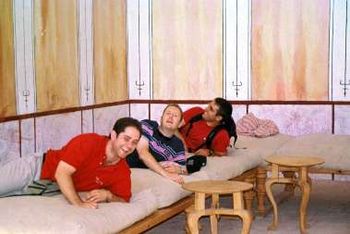 Photo taken at the
V Conventus Novae Romae
.
Cn. Salvius Astur
,
C. Moravius Laureatus
, & T. Amatius Paulus at
Arbeia
, enjoying a moment in a reconstructed Roman
triclinium
.