DE:Hauptseite
From NovaRoma
(Difference between revisions)
 

(One intermediate revision by one user not shown)
Line 42:
Line 42:
 

* [[New citizen first steps|Für neue Bürger]] ''Und was tue ich jetzt?''

 

* [[New citizen first steps|Für neue Bürger]] ''Und was tue ich jetzt?''

 

* [http://groups.yahoo.com/group/Nova-Roma/ Nova Roma Mailingliste] - unserer Email-Diskussionsliste beitreten

 

* [http://groups.yahoo.com/group/Nova-Roma/ Nova Roma Mailingliste] - unserer Email-Diskussionsliste beitreten

−

* [[DE:NovaRoma:Gemeinschaftsportal|Diese Website (Wiki) bearbeiten]] }}-->

+

* [[NovaRoma:Gemeinschaftsportal|Diese Website (Wiki) bearbeiten]] }}-->

 

</div>

 

</div>

 
 
Line 49:
Line 49:
 

* Du musst Bürger von [[Nova Roma]] sein: [http://www.novaroma.org/bin/apply bewerben]

 

* Du musst Bürger von [[Nova Roma]] sein: [http://www.novaroma.org/bin/apply bewerben]

 

* Einen Wiki Useraccount anlegen: [[Special:Userlogin | hier registrieren]]

 

* Einen Wiki Useraccount anlegen: [[Special:Userlogin | hier registrieren]]

−

* Siehe das [[DE:NovaRoma:Gemeinschaftsportal|Gemeinschaftsportal]] für die Bearbeitungsrichtlinien

+

* Siehe das [[NovaRoma:Gemeinschaftsportal|Gemeinschaftsportal]] für die Bearbeitungsrichtlinien

 

[[NovaRoma:Admin Requests|Kontaktiere]] die [[NovaRoma:WikiMagisters|WikiMagister]], wenn du Fragen hast.}}

 

[[NovaRoma:Admin Requests|Kontaktiere]] die [[NovaRoma:WikiMagisters|WikiMagister]], wenn du Fragen hast.}}

 

</div>

 

</div>
---
Latest revision as of 20:01, 19 January 2013
NOVA ROMA
Die Rekonstruktion der klassischen römischen Religion, Kultur und Tugenden
 Home| Latíné | Deutsch | Esperanto | Español | Français | Italiano | Magyar | Português | Română | Русский | English
Hodié a.d. X Kal. Apr. ‡ III post M. Pompeium Sex. Lucilium cos. ‡ MMDCCLXXI a.u.c. est. "B"
BILD DES TAGES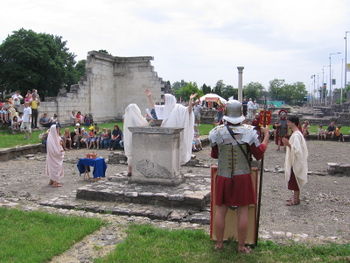 Legatus pro praetore
of
Pannonia
and priest
Cn. Lentulus
, assisted by Nova Romans, sacrifices for the well-being of
Nova Roma
at the altar of Aquincum, during the
Floralia Festival
in Budapest, Hungary.
Die Nova Roma Wiki Website