DE:Hauptseite
From NovaRoma
(Difference between revisions)
 

(5 intermediate revisions by 4 users not shown)
Line 7:
Line 7:
 
 
 

'''Quick links:''' [[DE:Declaration (Nova Roma)|Deklaration]] - [[FAQ]] - [[:Category:Legal system (Nova Roma)|Gesetze, Edikte, Verfassung]] - [[Aerarium Saturni (Nova Roma)|Treasury]] - [[{{CURRENTYEAR}}|Magistraten]] - [[:Category:Senators (Nova Roma)|Senatoren]] - [[Provincia (Nova Roma)|Provinzen]] - [[Annals (Nova Roma)|Annals]] - <!-- ''[[Ager Publicus (Nova Roma)|Ager Publicus]]'' - -->[http://www.novaroma.org/civitas/album Album Civium] - ''{{Calendar|Kalender}}''}}

 

'''Quick links:''' [[DE:Declaration (Nova Roma)|Deklaration]] - [[FAQ]] - [[:Category:Legal system (Nova Roma)|Gesetze, Edikte, Verfassung]] - [[Aerarium Saturni (Nova Roma)|Treasury]] - [[{{CURRENTYEAR}}|Magistraten]] - [[:Category:Senators (Nova Roma)|Senatoren]] - [[Provincia (Nova Roma)|Provinzen]] - [[Annals (Nova Roma)|Annals]] - <!-- ''[[Ager Publicus (Nova Roma)|Ager Publicus]]'' - -->[http://www.novaroma.org/civitas/album Album Civium] - ''{{Calendar|Kalender}}''}}

 
+
 
+
 
+
 
 
 

{{PortalBox | title=CULTUS DEORUM | content={{Include summary|DE:Cultus deorum Romanorum}}

 

{{PortalBox | title=CULTUS DEORUM | content={{Include summary|DE:Cultus deorum Romanorum}}

Line 30:
Line 33:
 

{{PortalBox | title=AKTUELLE TERMINE | content= {{Current Events Shortlist}} }}

 

{{PortalBox | title=AKTUELLE TERMINE | content= {{Current Events Shortlist}} }}

 
 
−

{{PortalBox | title=PROVINCIA GERMANIA | content=  

+

{{PortalBox | title=| content=}}

−

[[Image:CIV-Titus Flavius Aquila.jpg|75px]][[Titus Flavius Aquila (Nova Roma)|T. Flavius Aquila]], ''legatus pro praetore [[DE:Provincia Germania (Nova Roma)|Germaniae]].''}}

+
 
 
−

{{PortalBox | title=BILD DES TAGES | content={{Template:DE:DailyPhoto}} }}

+

{{}}

 
 
−

{{PortalBox | title=BÜRGER WERDEN | content=* [[FAQ|Häufig gestellte Fragen (FAQ)]]  

+

{{PortalBox | title=BÜRGER WERDEN | content=* [[FAQ|Häufig gestellte Fragen (FAQ)]]  

 

* [[Choosing a Roman name|Einen römischen Namen wählen]]

 

* [[Choosing a Roman name|Einen römischen Namen wählen]]

 

* '''[http://www.novaroma.org/bin/apply?lang=de Mitgliedsantrag]'''

 

* '''[http://www.novaroma.org/bin/apply?lang=de Mitgliedsantrag]'''

 

* [[New citizen first steps|Für neue Bürger]] ''Und was tue ich jetzt?''

 

* [[New citizen first steps|Für neue Bürger]] ''Und was tue ich jetzt?''

 

* [http://groups.yahoo.com/group/Nova-Roma/ Nova Roma Mailingliste] - unserer Email-Diskussionsliste beitreten

 

* [http://groups.yahoo.com/group/Nova-Roma/ Nova Roma Mailingliste] - unserer Email-Diskussionsliste beitreten

−

* [[DE:NovaRoma:Gemeinschaftsportal|Diese Website (Wiki) bearbeiten]] }}

+

* [[NovaRoma:Gemeinschaftsportal|Diese Website (Wiki) bearbeiten]] }}

 

</div>

 

</div>

 
+
 

<div style="clear:both">{{PortalBox | title=Die Nova Roma Wiki Website | content=''Bürger von Nova Roma - Ihr könnt diese Website bearbeiten!''

 

<div style="clear:both">{{PortalBox | title=Die Nova Roma Wiki Website | content=''Bürger von Nova Roma - Ihr könnt diese Website bearbeiten!''

 
 
 

* Du musst Bürger von [[Nova Roma]] sein: [http://www.novaroma.org/bin/apply bewerben]

 

* Du musst Bürger von [[Nova Roma]] sein: [http://www.novaroma.org/bin/apply bewerben]

 

* Einen Wiki Useraccount anlegen: [[Special:Userlogin | hier registrieren]]

 

* Einen Wiki Useraccount anlegen: [[Special:Userlogin | hier registrieren]]

−

* Siehe das [[DE:NovaRoma:Gemeinschaftsportal|Gemeinschaftsportal]] für die Bearbeitungsrichtlinien

+

* Siehe das [[NovaRoma:Gemeinschaftsportal|Gemeinschaftsportal]] für die Bearbeitungsrichtlinien

 

[[NovaRoma:Admin Requests|Kontaktiere]] die [[NovaRoma:WikiMagisters|WikiMagister]], wenn du Fragen hast.}}

 

[[NovaRoma:Admin Requests|Kontaktiere]] die [[NovaRoma:WikiMagisters|WikiMagister]], wenn du Fragen hast.}}

 

</div>

 

</div>

 
+
 
 
 

[[Category:Deutsch]]

 

[[Category:Deutsch]]

 

__NOTOC__ __NOEDITSECTION__

 

__NOTOC__ __NOEDITSECTION__
---
Latest revision as of 20:01, 19 January 2013
NOVA ROMA
Die Rekonstruktion der klassischen römischen Religion, Kultur und Tugenden
 Home| Latíné | Deutsch | Esperanto | Español | Français | Italiano | Magyar | Português | Română | Русский | English
Hodié Id. Dec. ‡ II post M. Pompeium Sex. Lucilium cos. ‡ MMDCCLXX a.u.c. est. "C"
BILD DES TAGES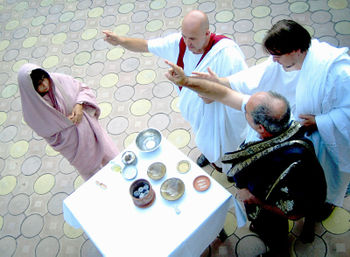 Livia Plauta
tribuna plebis,
T. Iulius
consul,
Cn. Lentulus
quaestor and
M. Moravius
consul, flamen, pontifex and augur sacrifice to Hercules for the 10th Anniversary of Nova Roma in 2008, during the
VI Conventus Novae Romae
.
Die Nova Roma Wiki Website