Calendar
From NovaRoma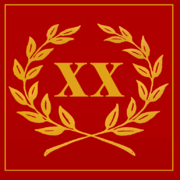 Nova Roma has completed its 20th year on the Kalends of March!
PARTICIPATE IN THE LUDI NOVI ROMANI
CELEBRATING THE XXth ANNIVERSARY OF THE FOUNDING OF NOVA ROMA
These Ludi Novi Romani are the games celebrating the 20th Anniversary of the founding of Nova Roma through March 1-15.
Nova Roma was founded 20 years ago, March 1, 1998.
 Home| Latíné | Deutsch | Esperanto | Español | Français | Italiano | Magyar | Português | Română | Русский | English
Today is a.d. XVI Kal. Apr. ‡ III post M. Pompeium Sex. Lucilium cos. ‡ MMDCCLXXI a.u.c..
Physical calendars are for sale in the Macellum.
Vide
The Calendar in Roma Antiqua
The Nova Roma Calendar
Related products
Products related to this topic are sold by: Gaius Curius Saturninus.