Aedes Portuni (Nova Roma)
From NovaRoma
(Difference between revisions)
Line 40:
Line 40:
 

:Fausta Novae Romae ut sis gensque Petronia poscit.

 

:Fausta Novae Romae ut sis gensque Petronia poscit.

 

:Fata Novae Romae clarissima Diva tuere !  

 

:Fata Novae Romae clarissima Diva tuere !  

−

:In Campo Martis semper, Feronia, sedes.

+

:In Campo Martis semper, Feronia, sedes.

 
+

 

 
+
 
+

 

 
+
 
+
 
+
 
+
 
+

 

 
+
 
+
 
+

 

 
+
 
+
---
Revision as of 10:18, 7 January 2009
 Home| Latíné | Deutsch | Español | Français | Italiano | Magyar | Português | Română | Русский | English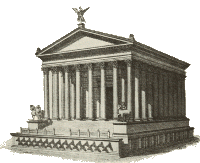 Aedes Portuni Populi Novi Romani
C. Petronius Dexter Flamen Portunalis Novae Romae Est
pro populo Novo Romano
---
Portunus
---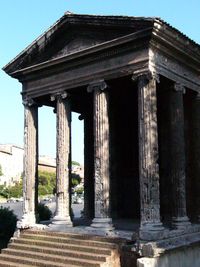 Portunus
See Portunus
Acta Flaminis Portunalis
Point of history:
I: M. Arcadius Pius was first flamen Portunalis of Nova Roma, elected on III Kal. Feb. MMDCCLIV (Jan 30 2001). He celebrated the Portunalia a.d. XVI Kal. Sept. MMDCCLIV (Aug. 17 2001). By decret of the CP (digest n° 1436.) Nonis Feb. MMDCCLVIII M. Arcadius Pius flamen Portunalis is stricken from the Collegium Pontificum but not yet relieved of his flaminate Portunalis (Msg: # 33680 (on the main List).

II: By departure of M. Arcadius Pius, flaminate Portunalis is open for some years.

III: On the Kal. Octobribus MMDCCLXI, the Collegium Pontificum creates C. Petronius Dexter as flamen Portunalis.

Acta Publica Flaminis Portunalis
Idibus Novembribus (Nov. 13 2761), C. Petronius Dexter, the flamen Portunalis, as from the gens Petronia, says a prayer to the goddess Feronia.
In viridi luco mater Feronia gaudes,
Haec est fausta dies tua, sunt Idusque Novembres,
Et venti folia autumnales aurea deflant,
Clarae facta rubent et in orbem cornua Phoebes,
Sed viridi in luco mater Feronia gaudes.
Servus inivit, qui nunc de luco liber exit.
Fausta Novae Romae ut sis gensque Petronia poscit.
Fata Novae Romae clarissima Diva tuere !
In Campo Martis semper, Feronia, sedes.

Pr. Id. Dec. MMDCCLXI (12/12/2761) as the river Tiber Rome was flooding, C. Petronius Dexter, flamen Portunalis, says a public prayer:

O Iane pater, O Portune pater,
ambo propitii Romae estote !
Tiberis undas parcitote !
Iovis imbres placate.
Caelum serenum denuo siet.
Roma sub caelo sereno siet.
O Iane pater, O Jupiter Optime Maxime,
O Portune pater, Propitii Romae estote !