Nova Roma Reenactor Camp
From NovaRoma
 Home| Latíné | Deutsch | Español | Français | Italiano | Magyar | Português | Română | Русский | English
Cn. Lentulus legatus pro praetore Pannoniae Quiritinus sal.
I announce you, Quirites, that the VIth Nova Roma Summer Camp in Pannonia, (in Szolnok, Hungary) organized jointly with the Gladius Reenactor Society,
will take place between:
JULY 5 - JULY 11.
The program is as usual:
legionary drill and training,
daily life in Roman Pannonia: civilians and barbarians,
gladiatorial combat,
religious celebrations to the Gods and a sacrifice to Mithras,
lectures about Roman history, religion and culture.
We can receive guests who are Nova Roman citizens, so if anybody wants to join us, we are most glad and you will be most welcome!
We can give free accommodation!
E-mail me at:
cn_corn_lent AT yahoo.it
L. Arminio Ti. Galerio cos. ‡ MMDCCLX a.u.c.
The Third Re-enactor Camp in Pannonia (Szolnok)
First Day - 2nd of July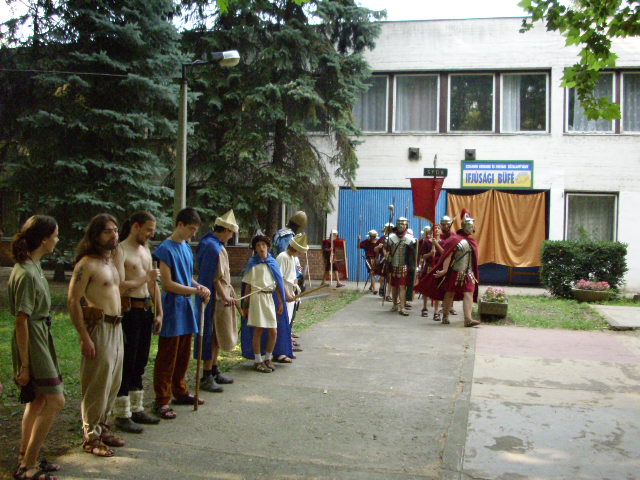 The legionars of the Legio XXI Rapax arrive to the Opening of the Camp.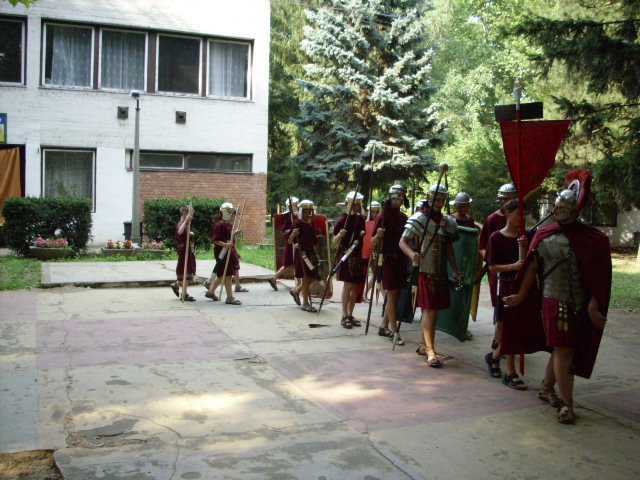 The Legio forms line on the square of the Camp.
Propraetor Lentulus and Metellus (Mr. János Tokai), President of the "Gladius Association", Military Tribune of the Legio XXI Rapax arrive to open the 3rd joint Reenactor Camp of NR Pannonia and of the "Gladius".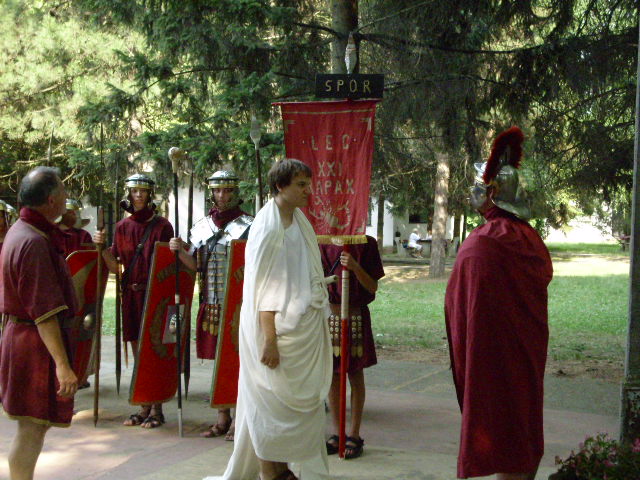 Cn. Lentulus Propraetor salutes his Legion.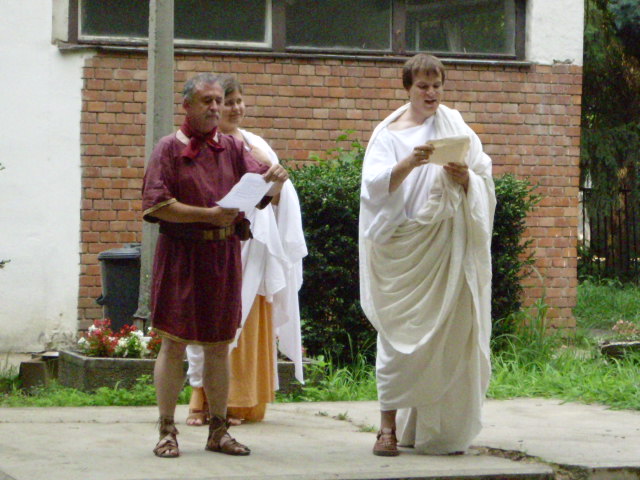 Cn. Cornelius Lentulus, Propraetor Pannoniae, opens the Reenactor Camp with a Latin speach. Tribune Metellus reads the Hungarian translation.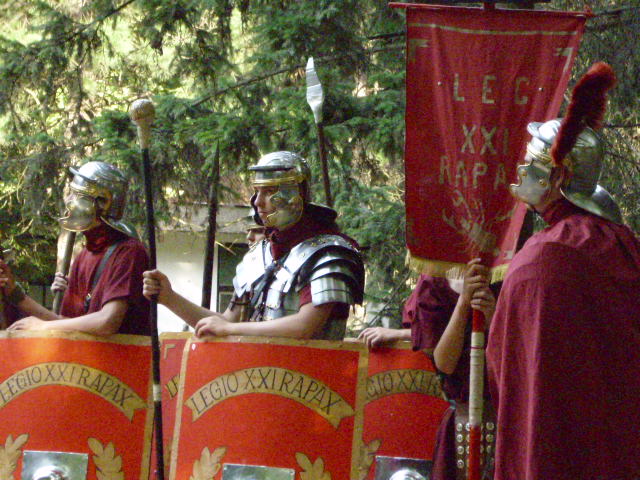 Legionars listen.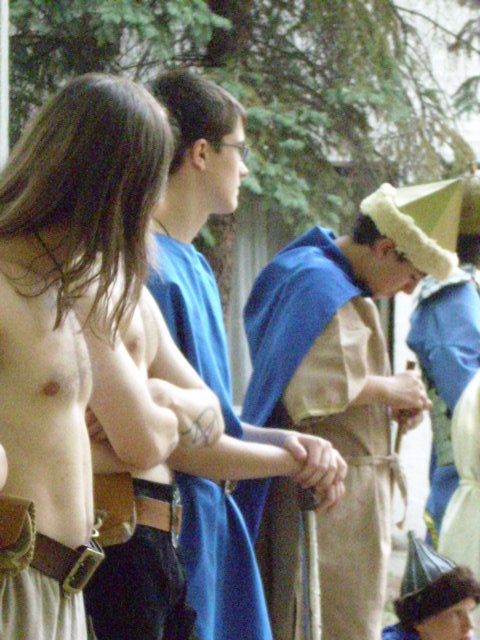 Barbarians listen... and fear...
SECOND DAY - 3rd of July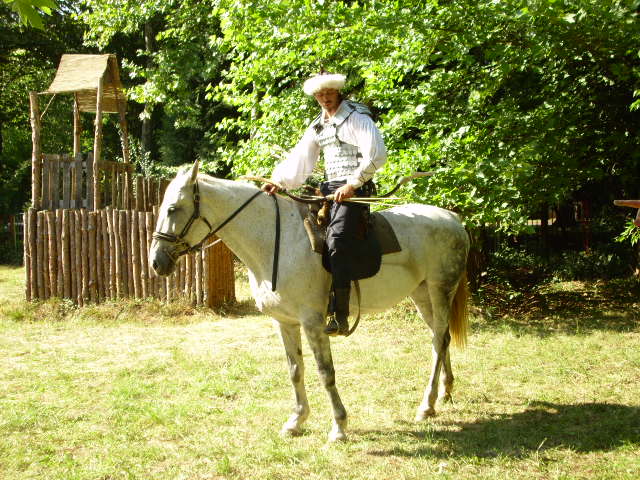 The Sarmata cavalry arrives!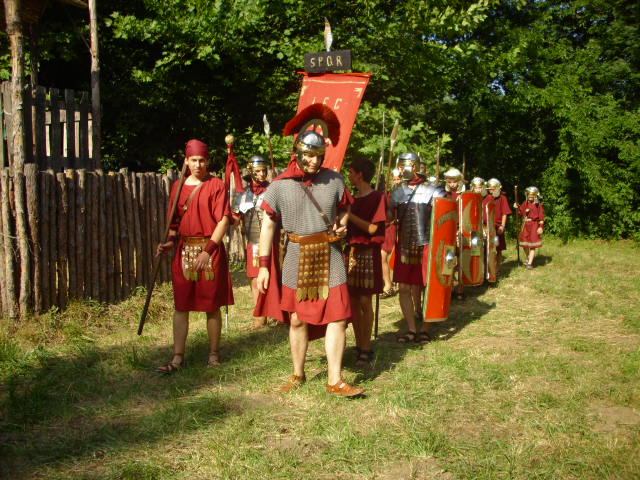 Lentulus Propraetor and Centurio lines up the Legion to the battle.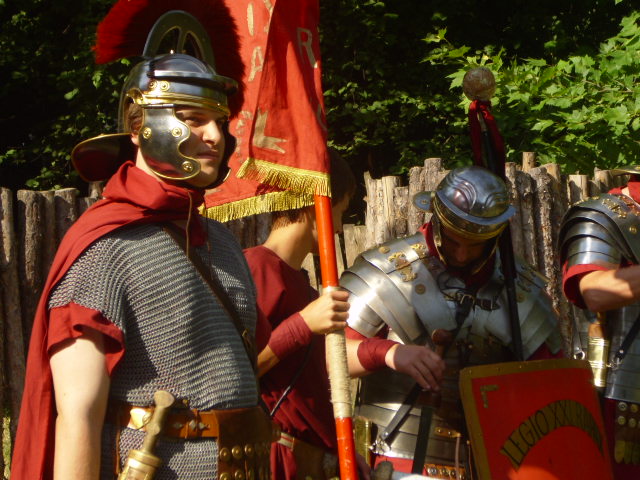 Before battle...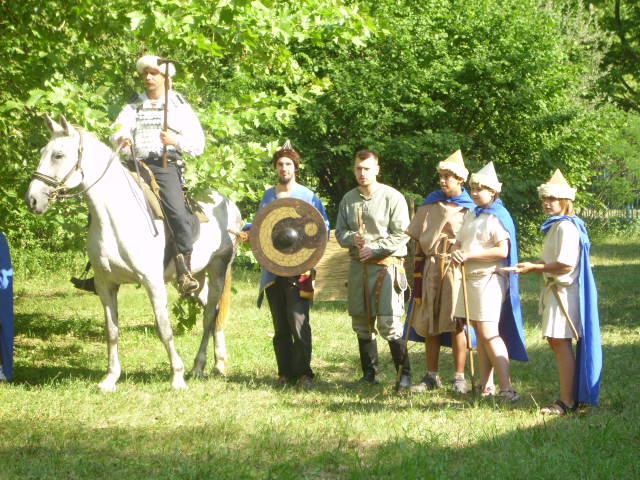 Sarmatas attack!!!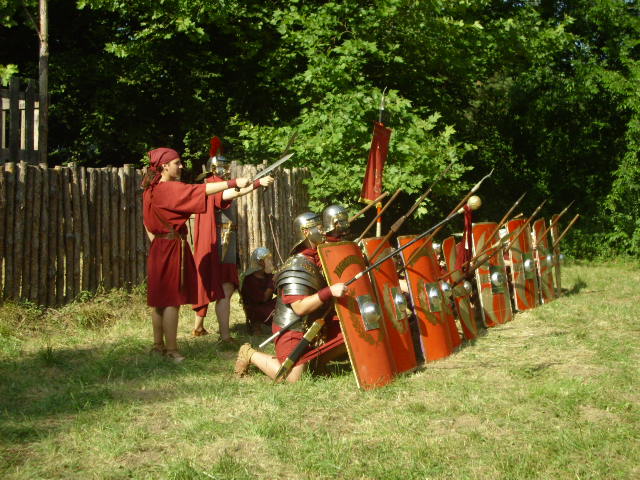 Order: "Contra equites!" - waiting for the attack.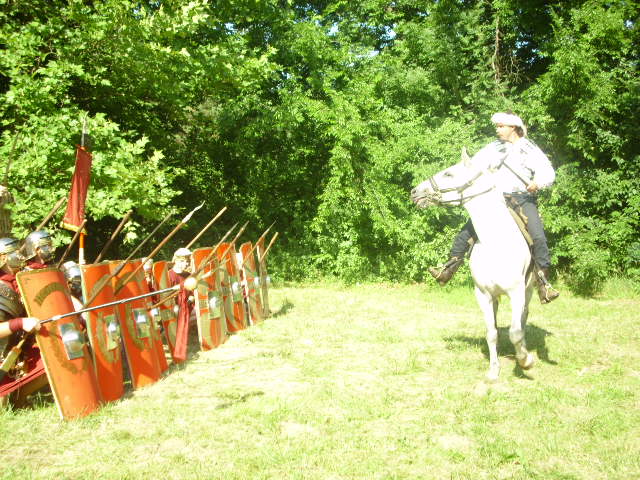 The cavalry sticks at the wall of pilums.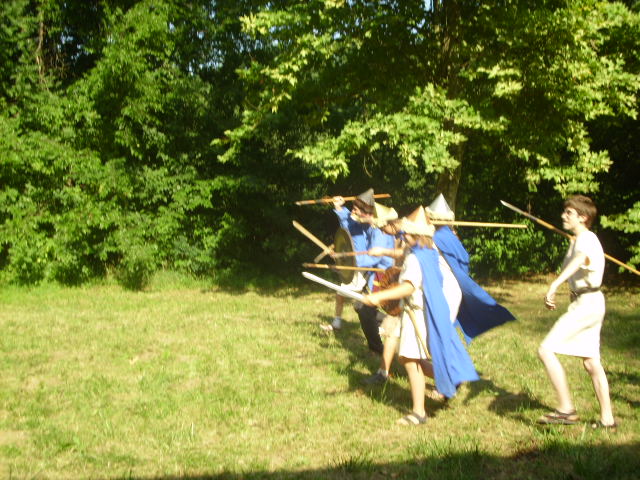 The Sarmata infantry makes an assault.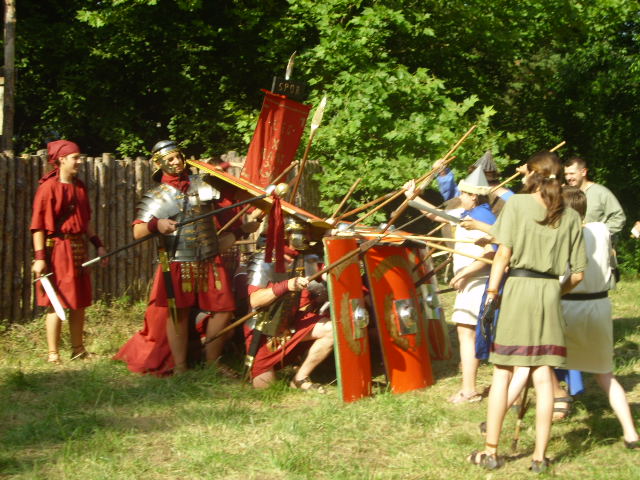 The Legion stands defensively forming a "Testudo".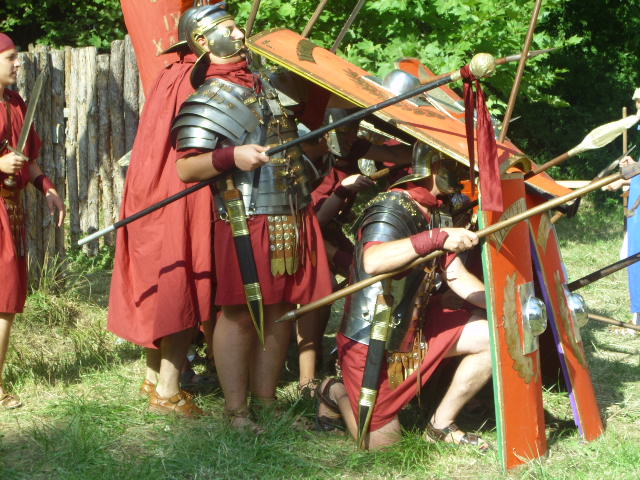 "Testudo!"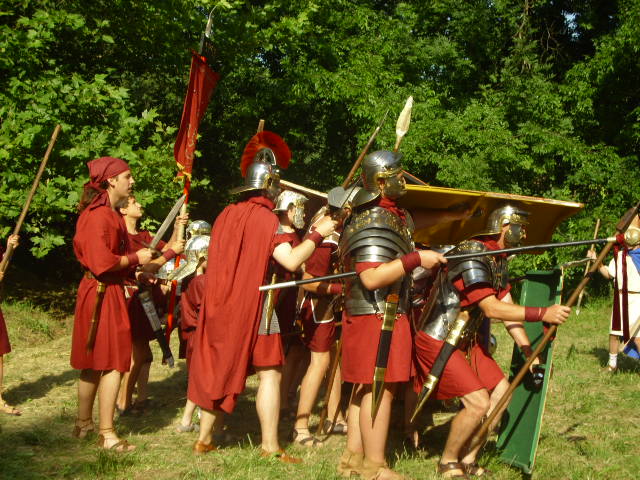 The Centurio orders attack.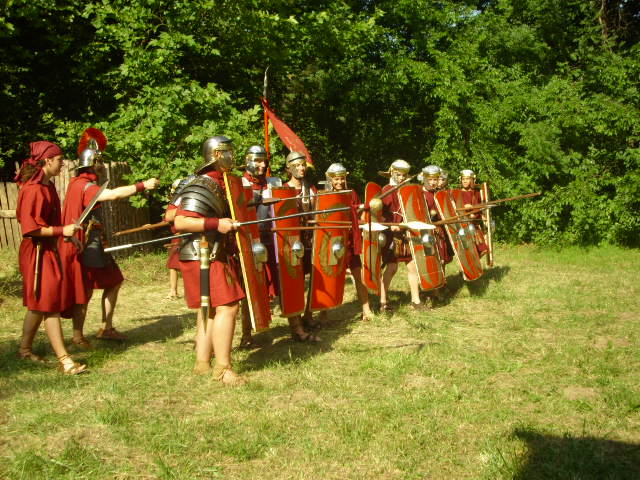 The Legion attacks.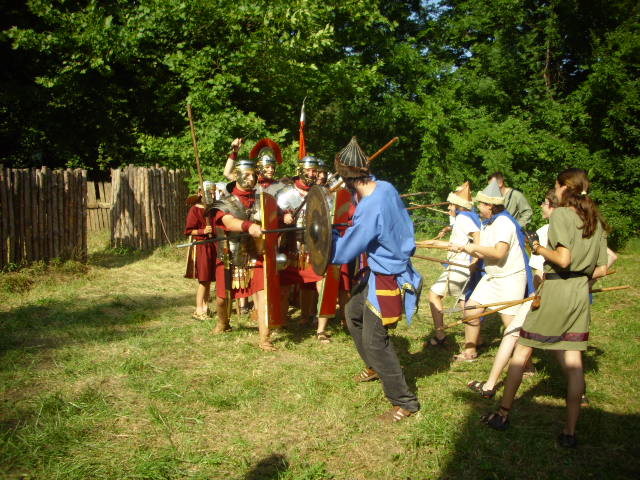 Romans are vanquishing...!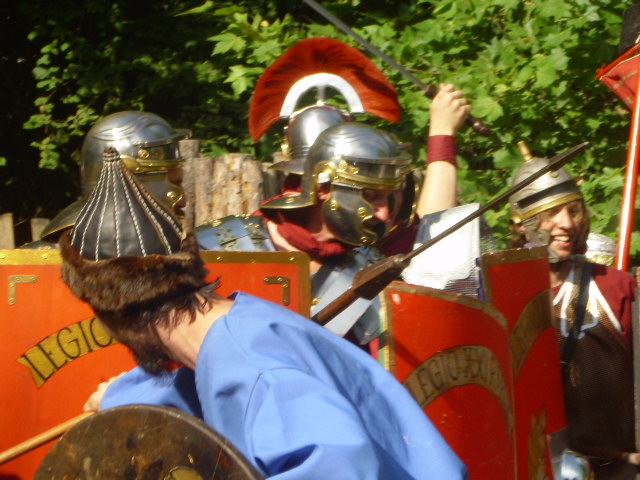 Fight and victory.